Hello, Hello! Back again for another link-up for "Five On Friday," possibly my last for a little while since I'll be a little *busier* than usual starting next Friday. Anywho. Onward. Five random tidbits from the week.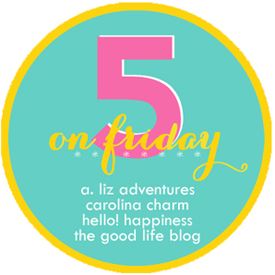 [ONE]
This entire post could alternatively be entitled, "Pre-baby lasts." Knowing Baby Lu's birth is just ONE WEEK away, I've been trying to squeeze in lots of "lasts" before life gets crazy busy for awhile. For example, I am having one last hair cut and color next week. I'm getting one last manicure and pedicure next week, too. I'll have my last Life Group on Monday night before the baby comes, etc. But. There were two particular "lasts" that I was so blessed to have this week that I thought I mention (And for the record, yes, I realize I'm not dying. I am just anticipating exhaustion, chaos, and limited "me time" over the next few months; hence the over-dramatic use of the word "last"). ;) First, I was treated to a surprise Girl's Night Out dinner earlier this week, and it was so, so fun! We had a delicious meal (including a virgin margarita for this momma!), lots of entertaining convo, and plenty of laughs. It was such a fun night, and we are already planning on many, many more in the months to come. Thanks so much girls--love y'all!
[TWO]
The other "last" that I love, love, loved having this week was one last pre-baby date night with my hub. We went out for another scrumptious meal and followed up with ice cream and a sunset. We made it a point to focus on each other, talk any and everything BUT kids (our date night rule), and just enjoy each other's company. It was, in a word, fantastic.
[THREE]
This week was Banks' Spring Break, which meant lots of playtime with both of my kiddos all week, which also translates to yaaaaaaaaaawn....one tired, ultra-pregnant Momma by today! Still, though, we were able to squeeze in lots of fun, including an awesome playdate with friends at a local rec center at the beginning of the week and a super cool "Pancakes and Pajamas" morning for Banks and his neighborhood buddies at an event held within our 'hood yesterday. All in all, I think our Spring Break stay-cation was a success!
[FOUR]
Is it just me or is it absolutely crazy that Easter is this weekend?! Just because we were homebound this week due to the aforementioned Spring Break + uber-pregnant Momma status did NOT mean we weren't going to sneak in some Easter fun! Enter...
A sidewalk chalk Easter color hopping game, one that both Banks and Raleigh loved! Think musical chairs-esque fun in the sun, which translates to a perfect excuse to be outside with my kiddos while they run around and play our game while Momma sits and directs the whole event. Score!
Absolutely yummy, homemade Easter egg bark, whose recipe is super simple and can be found here.
Lots and lots (and lots and lots) of Easter egg hunt practice, again allowing this Momma to supervise from a seated position while the kiddos took turns hiding and finding the eggs around the playroom and toy closet over and over and over again. For the win!
Peep s'mores. Need I say more?!
And finally, we'll be dyeing our Easter eggs later today so that they'll be ready and waiting for the Easter Bunny to hide on Sunday. All in all, lots of egg-cellent, Easter-iffic events 'round these parts. ;)
[FIVE]
Even though it's our last weekend before Baby Lu arrives, it's going to be a busy one! I am headed to a baby shower for my baby sister in Columbia tomorrow (Baby Lu...don't even think about trying to make an early debut, you hear me?!), we'll be celebrating Easter as a family on Sunday, and then we'll likely try to squeeze in a Costco trip to stock up on snacks and supplies to make the next few weeks easier as we adjust to life as a family of five. Whew! Regardless, it should make for a full but festive weekend!
And with that, I say HAPPY EASTER to all. May your weekend be filled with reminders of His love, sacrifice, and blessings; lots of fun treats for your kiddos; adorable Easter-outfitted little ones (can't wait to see all the beautiful kiddos out there in their Easter finest); successful Easter egg hunts; and delicious Easter eatin'. Have a good one!