I thought I'd try something new this week by linking up with The Good Life for a "Five on Friday" post, where I blog about five random things happening in our life at the moment. And for those twelve people who regularly read my little ol' blog, don't you worry. The coffee is still a-flowin' in my neck o' the woods, and I'm still virtually sending you a caffeinated "Cheers!"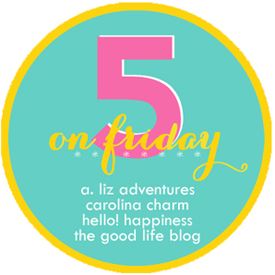 So. Here are my five randoms from this week.
[ONE]
Hallelujah. Praise the Lord. Y'all...my hub comes home today!!! As I mentioned in last week's Coffee Date Friday post, my hub accepted a new position with a new company and started his new job this week. Hooray! This also meant he left in the wee hours of the morning on Monday and has been gone all week, from Atlanta to Boston to LA. Boo! Now, a full week of spousal travel is hard on any momma, I have no doubt about that. Throw in being 35+ weeks pregnant with two active little ones to keep up with and well, let's just say I'm happy the weekend is here! I'm not gonna lie though. We planned ahead of time for his week away and hired a sitter to come help me with the kids' baths and night-time routines two evenings this week. My back just KILLS by the end of the day, especially after the fun days we've been spending outside playing to our heart's content, all while I tote around my measuring-a-week-ahead, heavy pregnant belly. So. Needless to say, the help was necessary. And MUCH appreciated. Whew! TGIF! And welcome home, Hub!
[TWO]
Our home's undergone a bit of a wallpaper renovation this week, and I absolutely LOVE the final outcome! I am pretty much obsessed with grasscloth and spent months hunting down the perfect paper for our dining room. Our dining room was previously painted the same neutral beige color as the rest of our downstairs on the top half of the walls with a chair rail (or wainscoting? I get them confused) on the bottom half. I initially painted in the wainscoting several months ago so that it was all a uniform white. And then finally, FINALLY, settled on a grey grasscloth and had it installed at the beginning of the week. Our dining room sits just to the right when you walk into the main entry way of our home, and I definitely think the new wallpaper addition is really eye-catching and adds a warm, textured "pop" to the space. Now, to decide what to hang on the walls. And maybe re-order that light fixture I cancelled several months ago? Maybe buy a rug for under the dining room table? Does anyone else feel like home decorating never ends?!
Here are two before photos (with walls unpainted, the light fixture lowered, furniture in different places, and our old, small glass-top dining room table and outdated chairs):
And here's how it looks today. Still some work to be done. But. We've come a long way with a new table and chair and bench seating, furniture rearrangement, a raised light fixture, and grasscloth on the walls:
A close up of the new grasscloth:
[THREE]
Spring has sprung in our Southern neck o' the woods, and we have spent more time outside than inside this week, playgrounds, playdates, popsicles, and loads of backyard playtime. I absolutely love it! Oh, and one of the best perks of pregnancy? The fact that your skin tans super fast when out in the sun. My arms and chest look like they've spent some time at the beach, and I'm glad to bid at least a portion of my winter pasty-ness adieu.
[FOUR]
I had so much fun spending time with my parents and siblings last week, which included a (failed) attempt at a pedicure, a lunch date with my Momma and youngest sister, a 2.5-hour afternoon in Babies 'R Us helping my sister register for her first baby, and a very fun wedding shower for my stepsister, which ALL FIVE of my siblings and I were able to attend. It was the perfect last weekend away before our Baby Lu arrives at the end of this month.
[FIVE]
Aside from a teeball game and team pictures, we have NO PLANS for this weekend, and I could not be more excited about it. Especially with the beautiful weather forecasted and having some time to complete the final "to do's" before the baby arrives. I'm thinking a grill-out is in order along with lots of continued fun in the sun.
So. There you have it. Five bits o' randomness from our week. Happy Weekend to all!